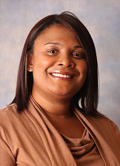 Karlene C. Cousins
Associate Professor
Department of Information Systems and Business Analytics
---
Phone: (305) 348-2160
Email: kcousins@fiu.edu
Dr. Cousins is recognized for her research on mobile technologies and the legal and regulatory issues impacting the use and innovation of information technology. She serves as an expert panelist and speaker in the mobile technologies area. She has published her research in journals such as the Communications of the ACM, Journal of the AIS, Decision Sciences, Communications of the AIS and the European Journal of Information Systems.
As a researcher, attorney, entrepreneur, business planning and commercialization expert, she has worked with technology, healthcare companies and government agencies on regulatory, data privacy, intellectual property, business and strategic planning and commercialization issues. She has experience in the technology, tourism, healthcare, manufacturing, gaming and airport industries.
Dr. Cousins has worked in a professional capacity at Deloitte, CDW, Alcan, the Airports Authority of Jamaica and the Entrepreneurial Law Center at the Northwestern University School of Law. She obtained a Ph.D. in Computer Information Systems from the Georgia State University and a J.D. from the Northwestern University School of Law.
She is a faculty fellow of the STEM Transformation Institute, and Treasurer of the Academy of Management, OCIS Division. She is co-founder of ITWomen NextGen at FIU, an organization dedicated to increasing the number of women and girls in technology careers. She also served as past Managing Editor of Information and Organization.